Institutional Stock Ownership and Shareholders
Invictus MD Strategies Corp. (OTC:IVITF) has 2 institutional investors and shareholders that have filed 13D/G or 13F forms with the Securities Exchange Commission (SEC). These institutions hold a total of 24,090 shares. Largest shareholders include St Germain D J Co Inc, and Vantage Investment Advisors, LLC.
Invictus MD Strategies Corp. (OTC:IVITF) ownership structure shows current positions in the company by institutions and funds, as well as latest changes in position size. Major shareholders can include individual investors, mutual funds, hedge funds, or institutions. The Schedule 13D indicates that the investor holds more than 5% of the company and intends to actively pursue a change in business strategy. Schedule 13G indicates a passive investment of over 5%. Green rows indicate new positions. Red rows indicate closed positions. Click the link icon to see the full transaction history.

File Date
Form
Investor
Opt
Prev
Shares
Current
Shares
Change
(Percent)
Prev Value
($1000)
Current Value
($1000)
Change
(Percent)
2018-08-07
13F-HR
ST GERMAIN D J CO INC
20,090
20,090
0.00
32
24
-25.00
2018-08-13
13F-HR
Vantage Investment Advisors, LLC
4,000
4,000
0.00
6
5
-16.67
IVITF: Invictus MD Strategies (CNSX:IMH) Analysis and Research Report
2017-12-18 - Asif
Invictus MD is a cannabis company founded in Vancouver, Canada. Invictus MD went public December 2014. The company represent a platform of licensed producers, under the Access to Cannabis for Medical Purposes Regulations ("ACMPR"), dedicated to providing high-quality, regulated pharma-grade cannabis for medical and recreational use. The company's growers are supported by over 250 acres of buildable property with full access to its team of industry-leading horticulturists, biochemists, and project managers. Production update Acreage Pharms Ltd - West-Central, Alberta Phase 1 - Existing 6,800 sq ft purpose built concrete and steel facility 609 kg cannabis cultivation capacity per annum Level 8 vault allows for storage onsite of $31.25MM of dried cannabis The current 150-acre property can accommodate future expansion plans Invictus MD owns 100% of Acreage Pharms Phase 2 - Funded Expansion 32,000 sq ft purpose built concrete and steel faci...
Related News Stories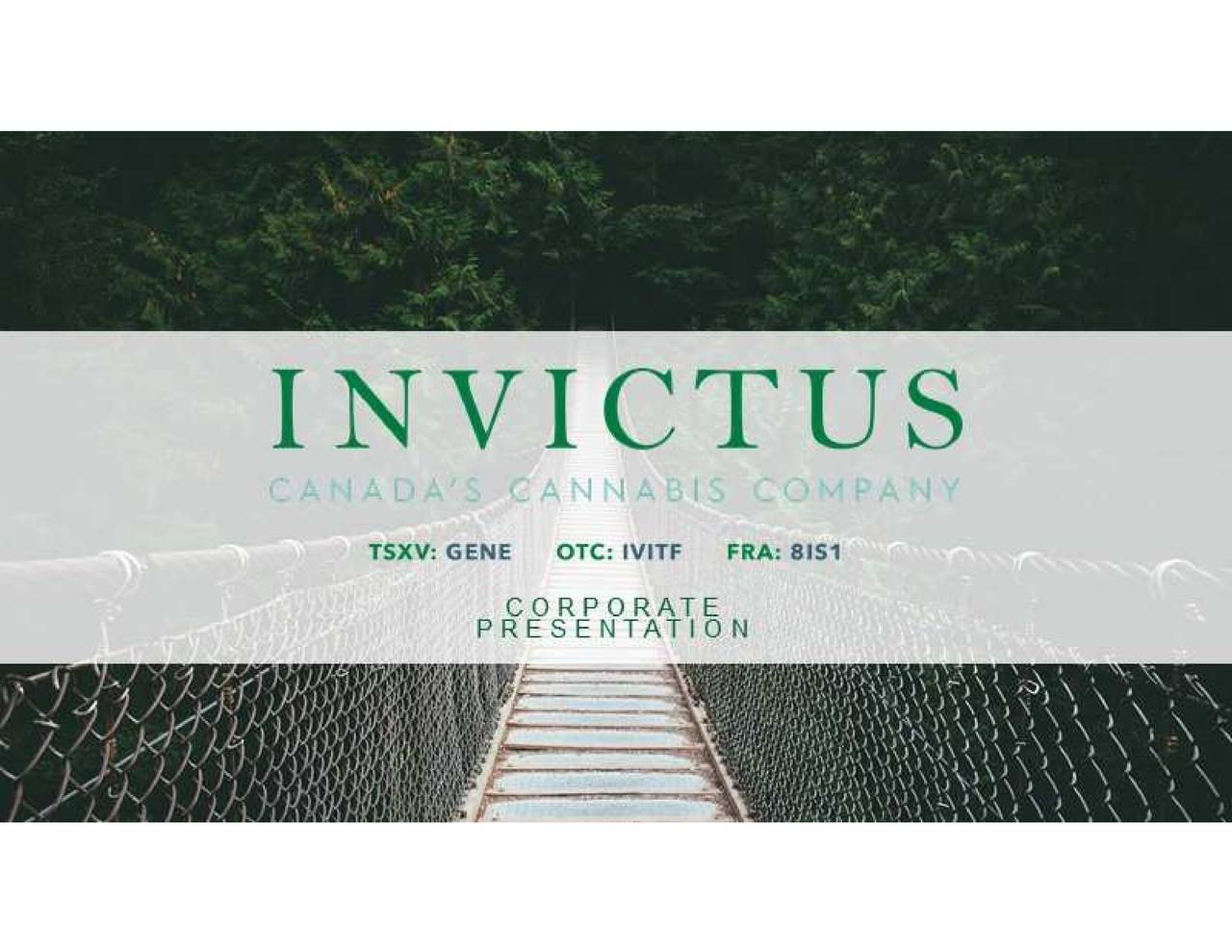 CUSIP: 46183X109
Financial Charts by Fintel.io