Stock Analysis, Dividends, Split History
AKTX / Akari Therapeutics Plc financial ratios include Market Cap, Enterprise Value, Book Value, Quick Ratio, Current Ratio, NCAV, EBITDA, Profit Margin, Operating Margin, Return on Invested Capital (ROIC), Return on Assets (ROA), Return on Equity (ROE), Piotroski F-Score, Altman Z-Score, Beneish M Score and Kaplan-Zingales KZ-Index.
Valuation Metrics
Price
1.95
Volume
32,200.00
Market Cap ($M)
2,072.74
Enterprise Value ($M)
2,011.31
Book Value ($M)
46.36
Book Value / Share
0.04
Price / Book
44.71
NCAV ($M)
46.09
NCAV / Share
0.04
Price / NCAV
44.97
Balance Sheet (mrq) ($M)
Assets
62.96
Liabilities
16.60
Quick Ratio
n/a
Current Ratio
3.79
Income Statement (mra) ($M)
Operating Income
-30.58
Net Income
-45.32
Cash Flow Statement (mra) ($M)
Cash From Operations
-4.97
Cash from Investing
1.39
Cash from Financing
1.39
Identifiers and Descriptors
CUSIP
00972G108
Central Index Key (CIK)
1541157
Related CUSIPS
009726108
Split History
Stock splits are used by Akari Therapeutics Plc to keep share prices within reasonable numbers to encourage investment. If the share price of a security gets too high, a company can perform a stock split by issuing all shareholders an extra share, thereby halving the price of an individual share. If the share price gets too low, companies can do reverse splits. This is common when share prices drop below $1.00 and company's become in danger of being delisted. However, because of the cost, stock splits are not a normal business occurrence.
Related News Stories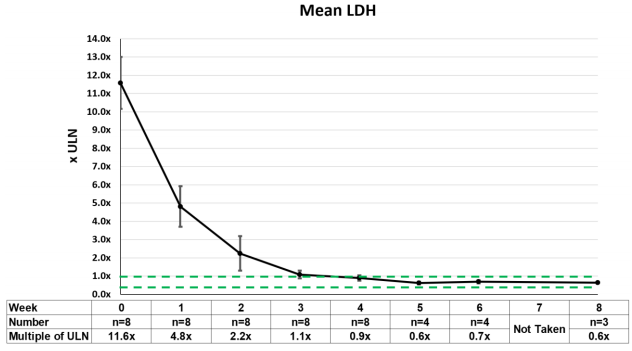 Alexion Pharmaceuticals: Clinical Progress, Acquisitions And The Competition (Part 2)
2018-05-31 seekingalpha
This article is the second of two parts discussing Alexion Pharmaceuticals (ALXN) and its competition. Make sure to check out Part 1 here if you have not already. In Part 2 I will focus mostly on ALXN's competition. I have previously reviewed a large number of ALXN's competitors back in October, 2017, but there have been some important developments since worth reviewing. Further, given the recent phase 3 success of ALXN1210 in paroxysmal nocturnal hemoglobinuria (PNH), and with results in atypical hemolytic uremic syndrome (aHUS) coming in Q4'18, it now becomes prudent to compare the competitors' drugs to ALXN1210, not just Soliris. (146-2)
Akari CEO Abruptly Resigns Following Abuse of Corporate Credit Card
2018-05-11 biospace
For the second time in less than one year, Akari Therapeutics is without a chief executive officer. David Horn Solomon abruptly resigned after being caught using the company credit card for personal purposes, the company said in a filing with the U.S. Securities and Exchange Commission. (17-3)
CUSIP: 00972G108
Last Price and Lot Size

as of ET
Recent Articles