Company Overview and News
Want to see your articles here? Click to install the Fintel share button.
0
Kasbah releases tin project DFS
2018-07-16 businessnews.com.au
Kasbah Resources has released a new definitive feasibility study for its Achmmach tin project in Morocco, which outlines a capital cost of $US96.4 million ($130 million).
KAS KASBF

0
0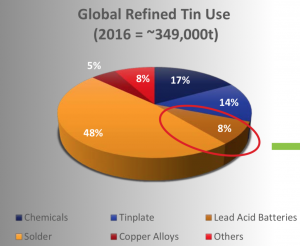 Tin Prospects Looking Positive
2018-03-21 agmetalminer
It generally doesn't attract the same speculative crowd from which copper, aluminum and zinc suffer. Its lack of any applications in jewelry keeps it firmly away from the precious metals camp. It's termed a minor metal because the volumes are nowhere near those of its larger brethren, but for some applications it is far from minor.
KAS KASBF

Related Articles
Silicon Investor Message Boards
This table lists all message boards related to ASX:KAS / KASBAH RESOURCES LIMITED on message board site Silicon Investor.